Do you teach digital citizenship in your classroom? Digital citizenship doesn't necessarily have to be a part of a set curriculum. Instead, you can integrate digital citizenship lesson ideas into student learning experiences in any subject area.
Regular readers of the blog know that I love the ebook creation tool Book Creator. You might have attended one of my webinars for them this spring or last summer. Or you might have seen one of the resources I've created for them, including this ebook with reading activities or this one featuring emojis.
I'm very excited to share a brand new resource that is free and ready for you to explore!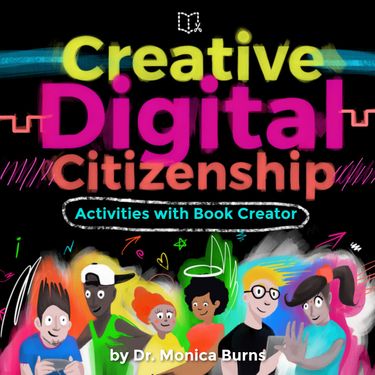 Digital Citizenship Lesson Ideas
This spring, I created an ebook full of digital citizenship lesson ideas for teachers. It's an entirely free resource that you can dive into today! In this blog post, I'll give you an overview of some of the resources and spotlight a few ideas from the book.
This book focuses on ways you can use the big ideas of digital citizenship in any classroom. It starts with an overview of digital citizenship in action, including connections to ISTE's work in the space. The book also includes activities that connect to the Common Sense Media curriculum for digital citizenship and how you can put these ideas into action with Book Creator!
Understanding Digital Citizenship
How can you help students understand digital citizenship? The digital citizenship lesson ideas in this book are a great place to start. Each page has four activities and a bonus tip in audio format. You'll also see an example of the type of activity you could create with Book Creator.
The example above focuses on Digital Footprint and Identity. You can see that there are four activity ideas to consider. These ideas can help you design a task customized for your group of students. For example, you might try out the, "List your career goals for the future" activity. Students can create a page for a collaborative ebook where they list their goals in audio or text format or record a video where they talk about what they'd like to do in the future.
After students make a list, they can add an additional piece about how their online social posts might impact their goals. If you haven't used the shapes feature in Book Creator, this is an excellent opportunity to check it out. You can use the Line shape to create a T-chart or the arrow to show cause and effect.
Using this Book in Your Classroom
As I mentioned at the beginning of this blog post, I have led several webinars for Book Creator this spring. This includes a session on Digital Citizenship that references some of the activities in this book. Like all of my spring webinars for Book Creator, you can find this on their YouTube channel. I've also included the recording below.
To put the ideas from this book into action, here are a few guiding questions to help you get started:
What are your digital citizenship goals for this year?
How are these skills relevant to your students?
What type of work product can students produce this year?
How can an ebook provide students with options to share their learning?
I can't wait to see what you create using these lesson ideas as inspiration! Head over to Book Creator's blog to learn more about their fantastic eBook creation tool and teacher resources!